I am lost :(
Did you understand anything? Okay we help you!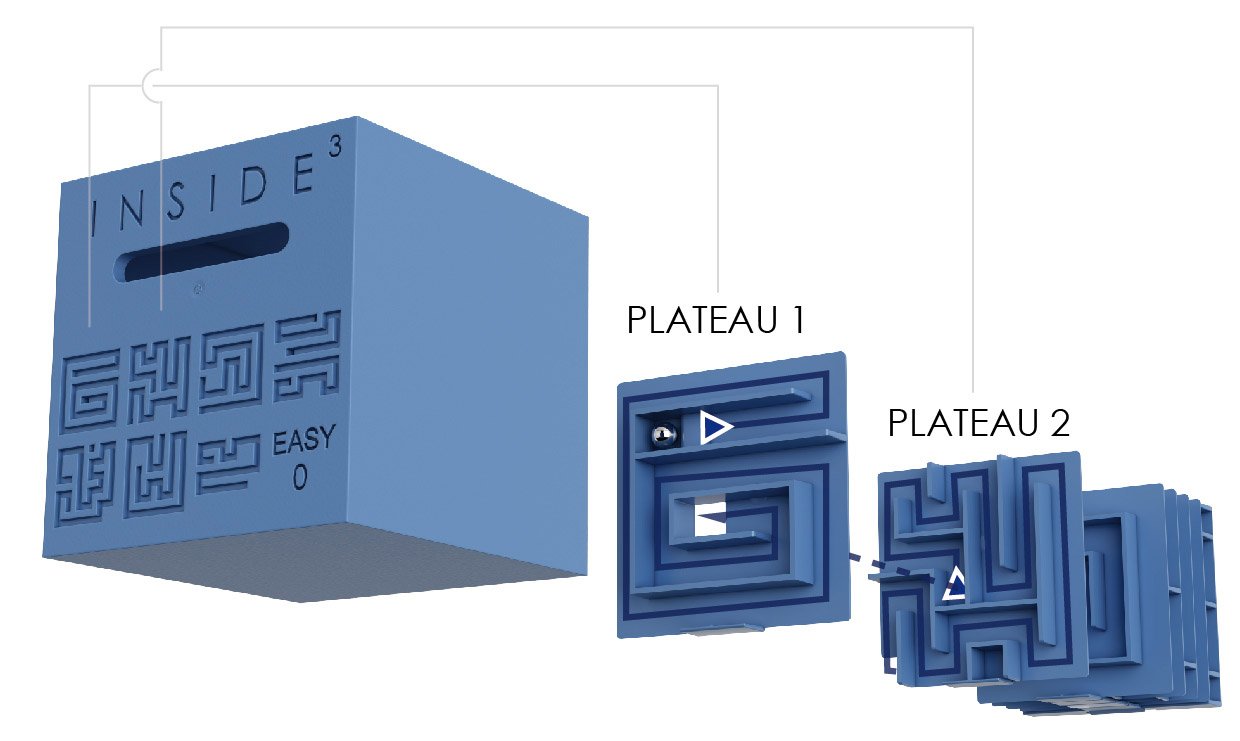 I N S I D E 3 it's easy
Each hieroglyph corresponds to a plateau of the labyrinth.
The 1st plateau is at the top left and the last at the bottom right. On the other hand, be careful, the start of the marble is not at the top left of the 1st plane as you can see on board 1!
A small black square in a plane corresponds to a hole in the board to allow your ball to descend.

Range
3 series based on the same principle: a ball that must cross a labyrinth placed in a cube!
The noVICE series : small with 5 trays to cross and more accessible.
Series 0 (zero) : original series with 7 trays. From easy to very very hard.
The PHANTOM series : complicated/very complicated, 7 trays with 2 balls

In each series, the color of a cube corresponds to its level of difficulty:
Easy : blue, the easiest of the series. From 0 to 1 raised.
Regular : green – a little more complicated with several lifts
Mean : orange – even more complicated, more lifts
Awful : rouge – it gets seriously tough with choice rooms, dead ends and whatnot
Vicious : Brown – as hard as an Awful but DOES NOT OPEN. You will have been warned...
Mortal : noir – as tough as an Awful, DOES NOT OPEN like a Vicious and has no plan surface. Recommended for Jedies and psychopaths.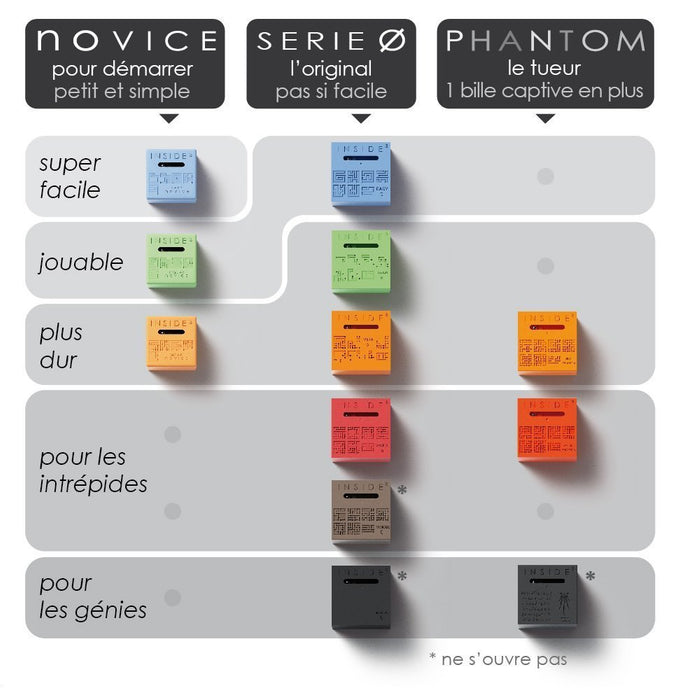 we talk about us
nice tweet fromAlexandre Astier at the launch of the Crowdfunding campaign on Ulule
THE CONSECRATION : T T (out of 3 at the time) in the Design pages:
"The object illustrates the revolution in design - digital production"
Xavier DE JARCY
A double page in Liberation: We sail blind […]. "Roll, roll, tick" is for example the only clue we have to suppose that the ball has traveled a small corridor.
Camille GEVAUDAN
An incredible text and photo in Faux Q magazine:
"This cube is introverted, cerebral, asocial, we play it alone as we pray in a silent church or as we stir up our memories on a sofa"
DAVID ABIKAR
Technikart in December 2012: during our campaign Ulule:
"Pretty look, ingenious idea and an ability to drive you crazy looking for the exit. We bet it'll work?"
R. TURCAT
It's in the box
Fastoche? definitely not! Not only does the maze consist of 7 levels, but the progression is done blindly."
S.V.